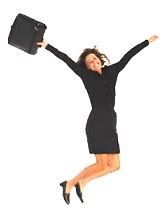 There are many factors that leave a good impression in a job interview but it's foolish to think if we have the experience and skills, we've landed the job. Of course it's important but there are other things that are considered. How you present is everything. You can look good on paper (resume), but if you're lacking in presentation, personality or character, you won't be leaving the best impression at all. In recruiter's terms we call these "soft skills". Of course you have to sell yourself and your unique skills. However, it's super important how you conduct yourself during the interview. You can't change your personality but you can always brush up on proper interview etiquette.
Interview Etiquette Tips (for starters):
Never keep an interviewer waiting (sets a bad tone)
Don't smoke just before the interview. Lots of people are offended by the smell of smoke
Turn smart phone off
Don't be more than 10 minutes early for an interview. An interview is scheduled at a specific time for a reason
Always bring a resume even if it was sent electronically (bring an extra one in case another person is called into the interview unexpectedly)
Dress appropriately (see earlier post, "Dress For Success")
Send thank you email within 24 hours
I'll cover much more on the "etiquette" topic in future posts. This is just food for thought.
"Good Night, And Good Luck"
Laura Rivchun
PS - This is just a partial list of "do's" and "don'ts" at an interview. If you'd like to find out about some others, contact me at lrcareercoach@gmail.com