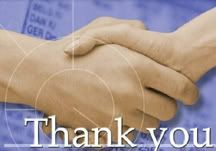 "Wow, that was a great interview! I met with two people and I'm invited back for a second round! Ok, so what do I do next?"
If you want to leave a good lasting impression after a job interview, send the "obligatory" professional thank you. You'd be surprised how many people fall short of doing this. Perception is reality and you always want to be perceived as the absolute professional. So, here are a few tips that might be helpful when writing a professional thank you letter.
Professional "Thank You" Tips
(I'm big on tips)
Email your "thank you" - snail mail is more personable but the job could be filled by the time it's received (it's called "snail mail" for a reason)
Don't turn your "thank you" letter into a novel (see earlier post on "Gone With The Wind")
A professional "thank you" letter should reiterate your strong interest in the position, why you are the right candidate, and expressing appreciation for the opportunity to interview
Send a "thank you" to everyone who interviewed you and a different version to each (just in case they compare notes)
Use words that convey self confidence (i.e. "I know I'd be a strong asset to your company" instead of "I think I'd be a strong asset to your company"). Words are powerful and create an image in the reader's mind
Ok, I've said enough for now.
"Writing is a socially acceptable form of Schizophrenia"
~ E.L. Doctorow
"Good Luck, And Good Night"
Laura Rivchun